What is it about a cricket match that brings everything and everybody (men, particularly) to a stand-still? Too many times have I had to wait outside an electronic store because all the flat-screens were telecasting a match, when all I really wanted to do was eat Thai food in the restaurant down the road. But he reeeeeally wanted to watch that last over, or wait for that last wicket to fall. Ugh!
But you love him. And the least you can do is join in, right?
With all the years' worth of experience (not to mention trauma) of watching (and enduring) a cricket match, you come up with this:
1. Use phrases like "Up him, ya!", "Abey, Umpire. Utha haath!" and "90s were the best."
Watching a match with your father teaches you thing or two about how to shout belligerently at the umpire when he just refuses to "lift the bloody finger"!
Drinking game #1: Dance when a ball is wide
2. Always … ALWAYS diss Rameez Raja.
This is pretty much the first commandment for every Indian cricket fan. You HAVE TO rip Rameez Raja apart for his commentary. I mean, c'mon! Saqlain Mushtaq bowled a bad delivery and got smashed for sixer. How difficult is it to say that and laud Sachin Tendulkar in the same breath?
(Nothing to see here; go away, Rameez!)
3. If you know the difference between leg and off, that's it! He'll go down on one knee.
Okay, seriously. Start picking out the wedding china already.
Sometimes it's leg between wickets!
4. Pull a Sheldon!
Tell someone to move from his seat, because that's your "spot" and India always wins when you sit there. You know that spot on the couch from where you watch the entire match, don't even get up to go to the washroom, or even answer the door? Let the person wait outside for a few hours. What's the worst that could happen?
5. Duckworth Lewis is always unfair to the team that bats second.
This is applicable only when India is chasing. Nobody, I repeat nobody really knows the Duckworth Lewis formula. Neither Duckworth nor Lewis too.

Harbhajan Singh at the receiving end of the Duckworth-Lewis
6. Everything said and done, the Fab Five are irreplaceable.
Another one of the commandments you need to follow to the T.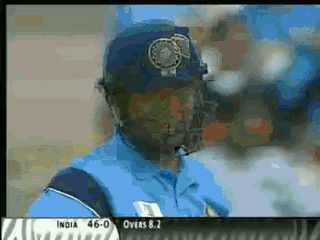 No one messes with the Little Master
7. AB de Villiers and Chris Gayle can be forgiven for anything.
They're as Indian as Virat Kohli. So even if Gayle hits our bowlers for a few sixers around the park, it's all in the family!

Out of the park!
8. M.S. Dhoni is the greatest captain we've had.
This is debatable only when you're speaking to a "Dada Fan", perhaps the only debate that has never really found a suitably acceptable conclusion.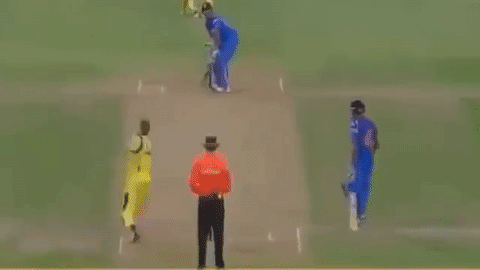 Helicopter shot to hit a helicopter!
Priyanka S.'s cricket-romance, Bowled Over, is now available on Juggernaut here: https://goo.gl/W90pCW