On Friday, the 22nd of April, we released our first version of the Juggernaut app for Android users. While the walkthrough will give you a quick sense of what you can do with our app — discover, preview and buy — there are a few things that will make your experience richer: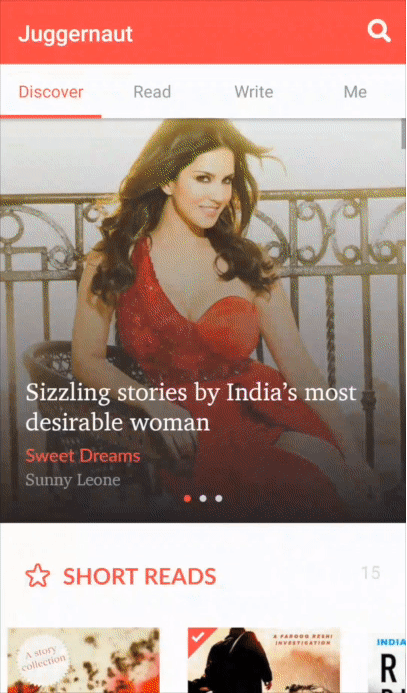 Discover: We are at launch organised in a few ways — length, popularity, genres/categories, collections and authors. Exploring by length will give you a variety of short reads (60-200 pages), really short reads (also featured in short reads, 0-50 pages) and serialised reads (longer books that are divided into parts). Remember, these are phone pages or scrolls. These pages will roughly work out to 100 words a scroll in a standard size phone, i.e. the MotoG or the MotoX. While reading speed is always a range, an average reader will read 100 words in about 20 seconds. So think of these as 15-60 minute reads.
Search: You can search by author, title and genre. And you can filter these by the number of pages and free or paid books. For example, searching 'Short stories + 1-100 pages' will give you a selection of our shortest reads, both paid and free.
Book detail: Tapping on any cover on the Discover carousel (other than the In-focus and Excerpt carousels that make you dive right into a book) will take you to a 'Book Detail' page. This page has a few components: the cover, author and the rating are immediately visible. You will also be able to read the reviews and an author's profile that gives more buying context. The sticky bar will allow you to jump into a book and read 10% of a book or add it to your shelf to preview later.
The Shelf: The Read icon on the top takes you to your bookshelf, where you have to log in to toggle between two states — whether to continue reading a book you've bought or to look at a book you've added but haven't had the time to check out in 'Wishlist'.
Reading Modes: A lovely cream-coloured background that gives the feel of aged paperback books, or the inverse
colour of white-on-black to ease your night reading, are features we love as readers. Font size and space are also customizable on double-tapping the screen.
Chapter navigation: Swiping from the right to the left side on the text of a book will expose chapter navigation on the right of the screen. Just tap on a number to go from chapter to chapter.
Gifting: The first impulse of gifting someone the book you've enjoyed is universal. You can do that easily on the app by tapping the 'Gift' icon on the book detail page in the top right corner.
PayTM: Link once and forget forever after. The PayTM integration will make payments on the app completely friction-free.
Sharing: Sharing comes easy on the app: you can share a book, an author, a highlighted excerpt, anything.
Highlighting: A passage you want to remember, or share on social media or with yourself are all easy to stack up using the Highlight feature. Click long enough on the screen and the Highlight icon will appear on the top-right.
Happy reading!